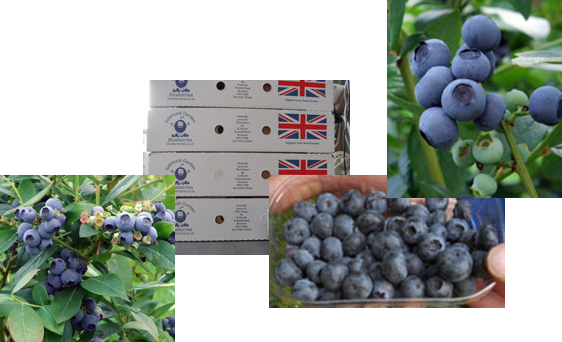 Benefits of Blueberries
Blueberries really are a super fruit! High in fibre and vitamin C, they also contain various flavonoid antioxidants. The purple pigments in blueberries, called anthocyanins, are supernutrient anti-oxidants. Another one of the benefits of blueberries Is that they are a well known source of antioxidants atributing to their rich colour.
Fresh
The blueberry is a member of the Vaccinium family, and shares the same distinctive deep purple colour with its relatives, bilberry, cranberry and huckleberry. Although fresh blueberries are a relative newcomer to the UK, it has long been a favourite of the Americans. Much of the history of blueberry use is linked with the native Americans who gathered wild blueberries.
Organic
All of our fresh blueberries are certified organic by the Soil Association. Organic food and farming is better for the environment, for wildlife and improves the fertility and structure of the soil. That's why all of our blueberries are organic. No pesticides are used - our organic blueberries are tested free from pesticides prior to each harvest. Instead we develop a nutrient-rich soil to grow strong healthy crops and encourage wildlife to help control pests and disease. Our blueberries will only travel a few "food miles" by the time they arrive on your plate. We carefully plan our delivery route to minimize food miles and associated carbon emissions. We only supply our fresh blueberries to local farm shops and responsibly managed organic veg-box schemes, to ensure it is always fresh and avoid prolonged storage. We never use air freight.
Background
Selehurst Garden Blueberries in West Sussex. Blueberries have grown naturally wild in the form of billberrys in the Lower Beeding area. Blueberries grow well in the shallow acid clay soil associated with this part of West Sussex, producing large full flavoured berries packed with natural goodness.
Why organic?
History has shown if you shower the land with Herbicides & Pesticides, and take a non environmentally friendly approach to farming, the quality of the food we eat suffers. Even now, with all the claims from herbicide manufacturers of their products being environmentally friendly, residues are still turning up in the food & drink we consume. This is because residues are slowly building up in the soil year on year, being absorbed by the trees and plants, rare flora and fauna is on the decline, as habitat is compromised. Our early flowering blueberry plants are pollinated predominately by the bumble bee, which is why we take our environment & woodland management seriously, to safe guard their habitat.